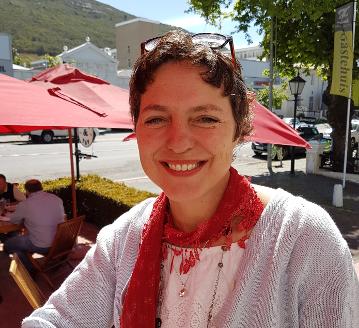 Tertia lives in Paarl, Western Cape, South Africa, in the heart of the Winelands with her husband, Johan, and has four children,
Danie 26, Moskou 25 married to Bianca, Wadda 21 and Bella 16. At 49 she is an accomplished artist, having studied fine art, lectured and exhibited extensively.

" I would recommend a creative career / leap as an alternative form of oxygen for anyone."
"As for the women in my paintings. . ."
On the subject of male / female dominance, (as it could pertain to the objectification of either one) I simply like the whole romantic Tarzan and Jane concept, as long as Tarzan does not turn into a complete ape and Jane can climb her own ropes."

I believe sensuality is a lot like the tip of an iceberg – most of it is hidden but it is inherent in all women. It might just show in her chin or shoulders but these are the parts that I look for and combine to create a kind of unrestricted female strength and sensuality.
And if you really want to read the rest . . . . . .
CURRICULUM VITAE
92 Ba (Bk), University of Pretoria (Painting Cum Laude

)

Educational positions
96 Lecturer University of Pretoria : Painting - Digital art for Fine Arts
Tutor University of Pretoria : Communication Design
Lecturer - Manager
Open Window Academy of Art
: Painting - Communication Design - Curriculum development for Electronic art
97-98 Lecturer University of Stellenbosch
, Digital design.
Exhibitions

89 SA Association of Arts
89/91 Rolfes Nationwide tour
90/92 Univ. of Pretoria Students exhibition.
90/92 New Signatures
91 Volkskas
92/94 Kempton Park competition
92/93 Volkskas Atelier
92 Biennale joint Artists of Pretoria
94 Masters Exhibit
2000 Joint exhibition Dorpstreet gallery Stellenbosch
2001 1st Solo - "Soen my Lemoene"Tina Skukan Gallery - Sold out.
2002 Solo - "Tietiesdraai" Dorp Street Gallery Stellenbosch - Sold out
2003 Solo – " Wolketrapper" Tina Skukan Gallery – Sold out
2006 – 2010 Yearly Cultivaria Studio Solo – Sold out
2011 - Icons Group Exhibit Oude Libertas Gallery, Stellenbosch
2012 - Groen Sanctus Exhibit, Oude Libertas Gallery, Stellenbosch.
2013 - 2019 Current : Open Studio and permanent exhibition at my studio 187 Main Road Paarl

Publications
Paintings + crit

in: Financial Mail, Beeld, Pretoria News
, Lig, Woman & Home Magazine.
Interviews : INSIG, Kwêla Kunskafee, Pretoria News, Pasella, Kwêla
Collectors
SASOL
Pres. Nelson Mandela (Foundation) Commission done for Masakhane
Bay Hotel, Camps BAY
Private collectors in Cape Town, Johannesburg, Pretoria, Namibia, Netherlands, USA, Russia
Commercial design, paintings & Illustrations
Freelance Illustrator

Clients/commissions

include :
Langeberg - ALL GOLD packaging

,

connoisseur's Jam,

Pasta sauces

,

Variety sauces


Nabisco - GRANOLA BAR,

Packaging




SAD - Safari Wines, Illustrations

,

Awarded.


Robertsons - ROBERTSONS HERBS &SPICES

(full range 80 illustrations)


DOUGLAS GREEN - SAINTS SERIES,

Awarded with the International Wine Label Award New YorK

+ finalist in London Awards




DOUGLAS GREEN- Export collection Cape negotiant series




CAPESPAN - New Packaging for All Export Fruit X 9 Cases.




SUN INTERNATIONAL (Intercontinental) - Corporate Illustrations +Maps




SOUTHERN SUN - Corporate Illustrations




METROPOLITAN MARS Logo




BONNITA - packaging, Big time sweets,




PREMIER FOODS - packaging




TIGER BRANDS - Cool cat




SA WINELANDS regional map


CLICKATELL - Inhouse digital illustrations


SARIE - Illustrations




PARMALAT - Land of Yum




WOOLWORTHS – Kiddies Milk




WOMEN IN WINE – Corporate ID
TOPS at Spar: Olive Brook wine Bibs
JUNO Wine company– Cape maidens: Corporate ID, Labels, Packaging.
The Grape Grinder - Wine Labels and Packaging
CAPE FYNBOS Brand - Winner Gold Pack Packaging Award - Gold and Bronze

SPOEGWOLF
- Cd and webdesign
SITRUSRAND ESTATE - Packaging
Potter's Place- Corporate ID
TOPS AT SPAR: Olive Brook wine Bibs



Ventures
92 Dome Mural, Village walk Sandton
92 Mural for Hunt Lascaris Head office (Merit Award Dulux Biennale)
95 -97 Extensive digital art in collaboration with various digital design houses.

97 - 2012 Freelance Illustrator.

BOOK COVERS



for Human & Rousseau, Tafelberg, Kagiso & Lapa Publishers
Stella Blakemore MAASDORP reeks
Marita van der Vyver -

Griet kom weer
Hans du plessis - Die Griekwa Psalms, Boegoe vannie Liefde, Hie neffens my, Splinters
Karel Schoeman - Verliesfontein
Jackie Nagtegaal - Vis in die punch
Riana Scheepers - Blinde Sambok
Dine van Zyl - Slagoffers
George Claasen, Piet Muller, Morkel van Tonder - Die Groot Aanhalingsboek
P J Philander - Rebunie
Jeanette Ferreira - Charlotta, Liefde loop ver
Helene de Kock - Mense van Faam, Die Riemland Tweeluik, Die Wynland Omnibus 5, 6 , 7, Abel se dogters
Eleanor Baker - 'n Ou Begin
Alex Muller - Series of Four Detective novels
PG Hendriks - Wie 'n vrou vind
François Bloemhof - Die dae toe ek Elvis was, Die pers huis, Herdruk van Elvis
Louise van Niekerk Land van Eenoor
Jonita Swart - Die Teken
Chris Moolman - Komplot
SANLAM PRIZE WINNERS
Johann van Lill - Agtervolger
Daniel en Carina Hugo Liefde natuurlik
+ 120 MORE.


Still breathing

. . .